While corporate greedy capitalists speak about Ukraine or some other country, in the heart of western imperialism, people are protesting. Calendar of events can be seen here.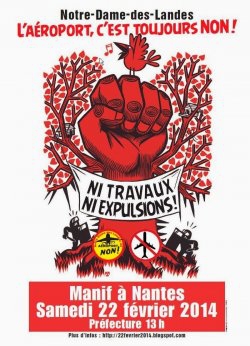 On Saturday Feb.22, 2014 French police clashed with people in Nantes, six police officers were injured (photo 1, 2, 3, 4). About 20,000 people protestied against plans to build an airport (should be opened by 2017) in Notre Dame des Landes, near Nantes. Police says about 1000 protesters were militant, 4 people were detained. Airport plan is project of Prime Minister Jean-Marc Ayrault, a Nantes native. One more time it is visible how much politicians have no contact with people and their needs, politicians represent business and not people. Big projects are chance for politicians to setup contract with companies that will share money with politicians under the table. They steal money from budget of the country, therefore they imagine projects which people don't need. In any case, here is video about shops destroyed by angry birds:
Statement from organizers:
(Source) There were 63 bus from all regions of France, twice more than in the human chain. This is the sign of a national mobilization and connection between Notre Dame des Landes and other struggles against large and imposed unnecessary projects. There were between 50 and 60 000 people, more than in the event of reoccupation of 17 November 2012. This is the largest movement of mobilization. The parade was festive, creative and determined, with batukadas, salamanders, newts giants, animal masks to mark the refusal of the destruction of protected species and so-called compensation measures. Catch words and events were held until 18h square Daviais.
The prefecture had chosen to produce problems and prevent us from being visible in the city center. This is the first time we got banned demonstration. A part of the protest passed through the Beaulieu island. Another tried to go through the route originally planned and faced violent police repression, shooting with rubber bullets, tear gas and stun grenades. This has not prevented the demonstrators to remain in mass in the streets of Nantes until the end. There are different ways for people to express themselves. The government is deaf to the anti-airport protest, it is not surprising that some anger is expressed.
This day is a success and the various components of the fight remain united on the ground. The opposition is growing for 30 years. The government has no choice but to abandon the airport project!
Vehicle of SPIE burst into flames
News from Indymedia Nantes: On the night of February 11-February 12, 2014, a vehicle of SPIE burst into flames, on Carducci street (ΧΙΧe). SPIE is involved in the nuclear industry, in the optical fiber digital network and in the "1,000 cameras" plan, in the city of Paris. For these reasons, it must be attacked everywhere, all the time.
Calais: Fascists mobilise against squatters
Last week people squatted/occupied a farm house in Coulogne and since Feb.16 groups of up to 50 fascists and angry neighbours have had almost a constant presence outside the building. The fascist's actions this week have ranged from shouting insults at the people inside, throwing rocks, fireworks and standing there for hours on end. At 7am on Tuesday morning three fascists, who had been out drinking all night tried to break into the squat with a sledge hammer. Two of them were arrested. Members of the demonstration have also been recorded making death threats against migrants. The fascists 'Sauvons Calais' facebook account has been used to mobilise people to descend on the squat.
The squat became visible last week and the squatters have gained legal status for their occupation. As the days have gone on it seems that the number of fascists coming is increasing. The situation is getting more hostile rather than calming down.
Anticolonial Week in France
From Feb. 14 to March 3, there is Anticolonial Week in Paris. Program is here: http://www.anticolonial.net/spip.php?article2934
Today from 1:30p.m to 6 p.m. there will be talking, music and movies with syndicates from: Kanaky, Pays Basque, Corse, Bretagne, Guadeloupe, Martinique, Guyane. After 6:30 there will be projection of movie and discussion, UPC presents: "Cameroon, autopsy of independence".
Tomorrow, Monday, 18 o'clock, there will be movie: "Roma: The latest target of an authorized racism".
Tuesday Feb.25, there will be discussion "Community Media, an alternative in terms of information?" Address: Espace Jean-Dame, 17 rue Léopold-Bellan, Paris 75002.